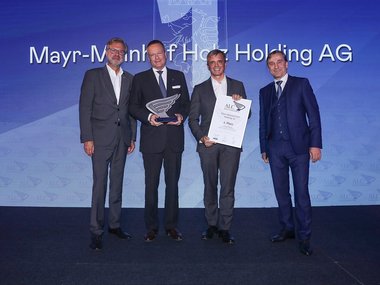 At the award ceremony on October 18 in Graz, the board members accept the award on behalf of all employees. From left to right: Styrian Chamber of Commerce Director Karl-Heinz Dernoscheg, Chairman of the Board CEO Richard Stralz, CFO Michael Wolfram, PwC Partner Peter Hadl. | © Peroutka/Die Presse
Management Board members Michael Wolfram (CFO) and Richard Stralz (CEO) present the certificate and trophy for the "1st Place International Company Award at Austria's Leading Companies". | © Sonja Hiebler-Liebminger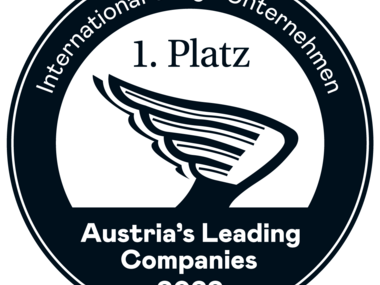 ALC seal of quality
Mayr-Melnhof Holz Holding, 22. October 2022
Austria's Leading Company 2022
"A success that is due to all our employees in our group of companies," emphasize the board members Richard Stralz and Michael Wolfram. "Together, we can be very proud of this award. It is based on the performance of all employees over the past three years. At the same time, it should spur us on to further top performance," said CEO Richard Stralz at the award ceremony on October 18.
Michael Wolfram, CFO, added: "We are one of Europe's largest and leading companies, and our success in this competition also underlines that."
This year, for the 24th time, Austria's best companies will be determined in the country's most important business competition. The award winners - Austria's Leading Companies - are characterized by sustainable growth and at the same time have a solid financial basis.

The ALC Award is special because it is not awarded by a jury, but is based on balance sheet figures and performance over a period of three years.
The prestigious business award is presented by the Austrian newspaper "Die Presse" and its partners KSV1870 and PwC Österreich.
The business award is available in two categories: Internationally active companies (export) and nationally active companies (Austria).
Mayr-Melnhof Holz won in the category "Internationally active companies", and this for the second time, the first time was in 2020.
- As the winning company, the Mayr-Melnhof Holz Group will also participate in the all-Austrian ranking of leading companies in January 2023.

Your media relations contact person