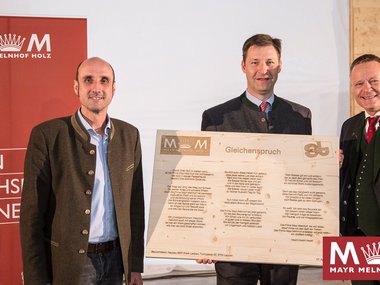 Managing director Johann Harrer from the timber construction company Strobl Weiz, owner Franz Mayr-Melnhof-Saurau and chairman Richard Stralz | © Klaus Morgenstern
The youngest apprentice of the timber construction company Strobl solemnly pronounces the "Gleichenspruch". From left to right: Managing Director Johann Harrer (Holzbau und Innenausbau Strobl Weiz), Franz Mayr-Melnhof-Saurau (Owner Mayr-Melnhof Holz), Richard Stralz (Chairman Mayr-Melnhof Holz Holding AG) | © Klaus Morgenstern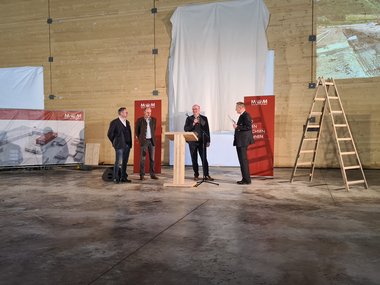 In interview: Ing. Thomas Kerschbaumer (General Planner Warnecke Engineering), Geschäftsführer Zimmermeister Johann Harrer (Holzbau und Innenausbau Strobl Weiz), Managing Director Franz Lederhaas (Baumeister HT-Bau), Richard Stralz (Chairman Mayr-Melnhof Holz Holding AG) | © Sonja Hiebler-Liebminger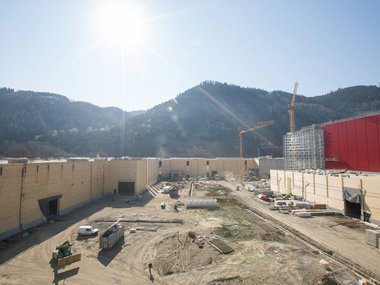 Only ten months after the groundbreaking ceremony, the shell of the modern cross-laminated timber plant is now in place at the Mayr-Melnhof Holz site in Leoben. | © Klaus Morgenstern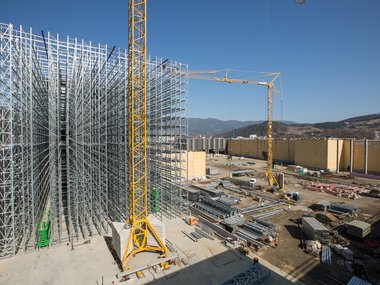 Only ten months after the groundbreaking ceremony, the shell of the modern cross-laminated timber plant is now in place at the Mayr-Melnhof Holz site in Leoben. | © Klaus Morgenstern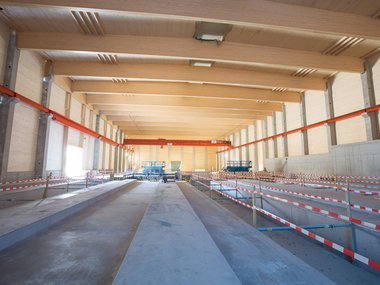 Only ten months after the groundbreaking ceremony, the shell of the modern cross-laminated timber plant is now in place at the Mayr-Melnhof Holz site in Leoben. | © Klaus Morgenstern
Mayr-Melnhof Holz Leoben, 08. April 2022
Topping-out ceremony for cross-laminated timber plant
"Glück auf" – Good luck! Mayr-Melnhof Holz is expanding its sawmill site in Leoben with a state-of-the-art cross-laminated timber plant, a high-performance re-sorting and planning mill, and a fully automated high-bay warehouse for the storage of sawn timber.
The 170-million-euro investment will be built directly subsequently to the sawmill. All elements for the load-bearing timber construction, the roof structure, walls and ceiling elements made of wood are manufactured from PEFC-certified wood in Mayr-Melnhof Holz' own timber processing plants.
Only ten months after the groundbreaking ceremony, the shell of the building is now complete. The occasion to celebrate the traditional topping-out ceremony. Representatives and employees of all the companies involved in the construction were there:

Warnecke Engineering GmbH
Arinco planungs + consulting gmbH
TGA Engineering GmbH
pde Integrale Planung GmbH
SYNALP GmbH
Ingenieurbüro Rudlof GmbH
sblumer ZT GmbH
HT & Generalunternehmer & Industriebau GmbH
Strobl Holzbau GmbH
Bacon Gebäudetechnik GMBH
Elin GmbH
Bmstr. DI (FH) Andreas Walter Mitteregger

Board member Richard Stralz and owner Franz Mayr-Melnhof-Saurau thanked the project team and employees of Mayr-Melnhof Holz, the planners, architects, all companies involved in the construction and their employees for their efforts. The youngest apprentice of the timber construction company Strobl solemnly gave the topping-out speech ("Gleichenspruch") and threw a glass onto the floor. This tradition is supposed to bring good luck for the further course of construction. Very impressively burned onto a large cross-laminated timber board from the Gaishorn site, the "Gleichenspruch" will find a lasting place in the cross-laminated timber plant after its completion.
Construction is in full swing and commissioning is planned for December 2022.
Your media relations contact person