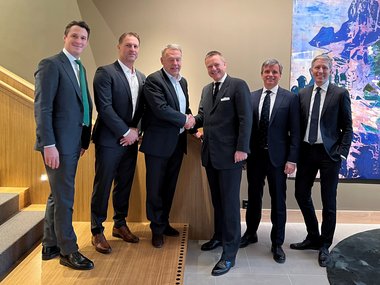 From left to right: Karl Grasser (Head of Corporate Development Mayr-Melnhof Holz Holding AG), Per-Ragnar Bergkvist (Head of Sales Bergkvist Siljan AB), Ulf Bergkvist (Chairman Bergkvist Siljan AB), Richard Stralz (CEO Mayr-Melnhof Holz Holding AG), Michael Wolfram (CFO Mayr-Melnhof Holz Holding AG), Jacob Alvarsson (Partner Orlando Nordics AB) | © MM Holz
Mayr-Melnhof Holz Holding, 17. December 2021
Acquisition of the Swedish sawmill group Bergkvist Siljan
The Mayr-Melnhof Holz Holding Group, based in Leoben, Austria, has signed an agreement on December 17th, 2021 to acquire the Swedish sawmill group Bergkvist Siljan from ESSVP IV, advised by Orlando Nordics AB. This continues the consistent expansion and growth strategy of the Austrian wood processing group. In 2022, for the first time in its 170-year history, the company will generate sales of over 1 billion Euro. The closing is expected to take place during the 1st quarter of 2022, subject to approval of the relevant competition authorities. It has been agreed not to disclose the purchase price.
Mayr-Melnhof Holz, one of the leading companies in the European sawmilling and engineered wood products industry, will grow with this acquisition its lumber production capacity by approximately 50 % to more than 2.7 million cubic meters of sawn timber per year.
The new sites Insjön, Mora and Blyberg, right in the middle of Sweden, complement the existing sawmills in Leoben (Austria), Paskov (Czech Republic) and Efimovskij (Russia) perfectly and create a starting point for the market entry of the Mayr-Melnhof Holz Group into Scandinavia.
"The Mayr-Melnhof Holz Group and Bergkvist Siljan make a perfect fit. Both have comparable roots, both are family businesses with a long tradition exceeding 100 years and both are committed to sustainability. We are looking forward to a rewarding cooperation and the mutual exchange of experiences", Richard Stralz, CEO of the Mayr-Melnhof Holz Holding AG, is pleased to comment about the just completed acquisition. CFO Michael Wolfram adds: "We are very optimistic that we can realize the synergy and growth potentials in sales and operations very quickly, not only securing our market position but expanding it at the same time."
"Mayr-Melnhof Holz, with its family roots and impressive track record, is a great long-term majority owner for Bergkvist Siljan. We have come a long way since the merger between Siljan Group and Bergkvist-Insjön in 2019, becoming part of a successful international wood industry group is the natural next step for us. We thank ESSVP IV and Orlando Nordics for their support and cooperation since 2018 and look forward to working together with the team from Mayr-Melnhof Holz", says Ulf Bergkvist, Chairman of Bergkvist Siljan.
Your media relations contact person